A Visitor's Guide to The Catacombs of Paris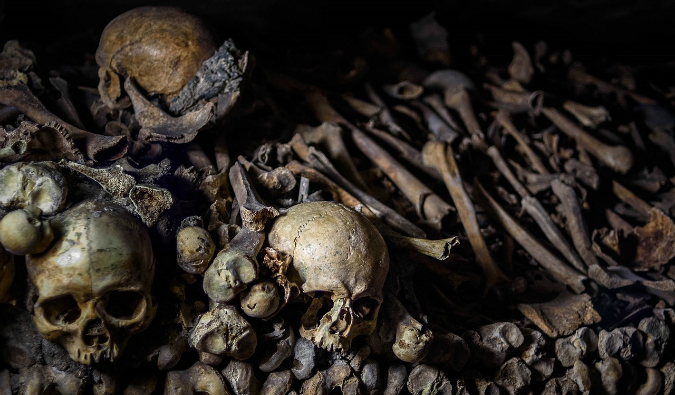 Last Updated: 9/30/20 | September 20th, 2020
Paris may be known as the City of Lights but it hides a dark and disturbing history.
Underneath the city, there is a gigantic honeycomb of tunnels. The system is a giant maze and no one knows quite how many tunnels or chambers there are out there (that's how big it is). (Paris is, after all, a very old city that has been built and rebuilt many times.) What we do know is that there are at least 320km (200 miles) of tunnels under the city. It's a literal maze.
These tunnels and chambers are what is left of rock quarries that used to be on the outskirts of the city. Much of the limestone that built the city was extracted from these mines, but as the city grew it expanded to where the quarries were and quarries had to be abandoned.
The French resistance used these tunnels during World War II, and rave parties flourished there during the 1990s. Victor Hugo used his knowledge about the tunnel system when he wrote Les Misérables. In 1871, communards killed a group of monarchists in one chamber.
Yet, in this maze of tunnels, one part open to the public: the famous Catacombs of Paris.
The Catacombs of Paris were "created" at the end of the 18th century. As the cemeteries filled up and had to be moved outside the city, a portion of the tunnels was turned into an ossuary (a place where human skeletons are stored) that contains the remains of millions of Parisians, who were gradually transferred here between the late eighteenth and mid-nineteenth centuries. (Fun fact: The bones were always moved at night to a ceremony made up of a procession of priests who sang along the way to the Catacombs.)
At first, they were deposited in a rather haphazard manner and the ossuary simply piled up. Eventually, the bones were organized and displayed in the way that you see them today.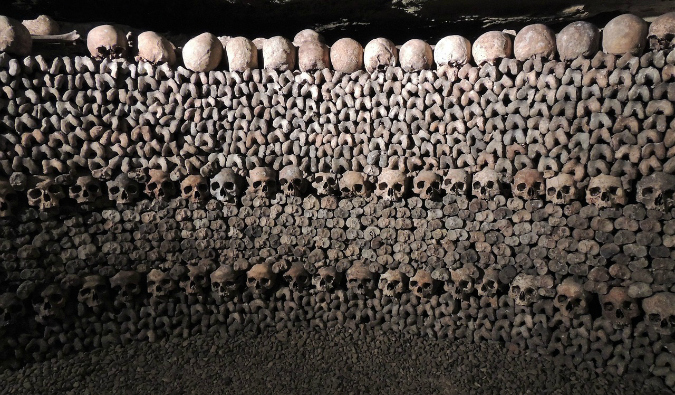 Since the first day they were complete, the Catacombs have been an object of curiosity, even for royalty. In 1787, Lord of d'Artois, who became King Charles 10, went down there with the ladies from the Court. In 1814, François 1st, Emperor of Austria, went to visit and explore them while he was in Paris. In 1860, Napoleon III went there with his son. The catacomb walls are also covered in graffiti dating from the eighteenth century. Everyone has left their mark on this place. Towards the end of the 18th century, the catacombs became a tourist attraction and have been open to the public on a regular basis from 1867.
In the dark galleries and narrow passages, you'll see bones arranged in a macabre display. Catacombs are eerie. They are quiet, dark, damp, and a bit downright depressing. There are lots of bones around and most of them are just stacked up on each other. You'll never know who is who – that skull you are looking at could be someone who died from the plague or be a wealthy aristocrat. You never know!
I've visited this site multiple times and I always find it super creepy yet super interesting. I've been to many unusual places over the years, and the Catacombs of Paris is definitely one of the best. The history is fascinating and you can see the markings and initials from the centuries of visitors on the walls.

Interesting Facts About the Catacombs of Paris
Here are a few interesting facts about this unusual tourist attraction:
The depth of the Catacombs is equivalent to a five-story building.
The area is 2 kilometers long.
It takes at least 45 minutes to explore the Catacombs.
The constant temperature in the Catacombs is 14 Celsius.
The surface area of the ossuary is 11,000 square meters.
There are over 6 million dead Parisians here.
Both sides in WWII used the Catacombs for clandestine operations. The Germans built hidden bunkers while the French Resistance used the tunnels for navigating the city unopposed.
There are secret, unmapped pools in the Catacombs that explorers visit and swim in (but people have also gotten lost down here and died so don't go exploring by yourself).
How to Visit the Catacombs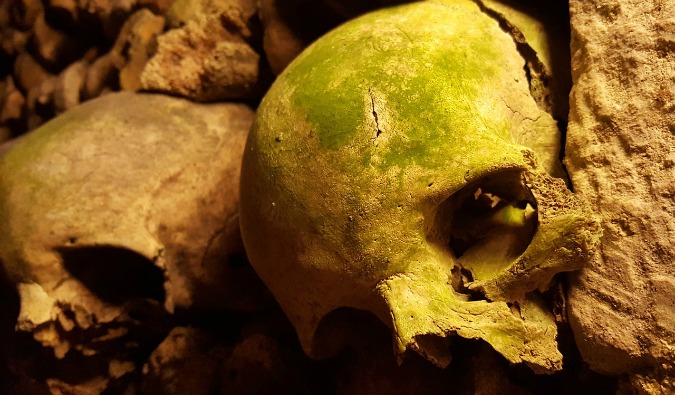 To get to the Catacombs of Paris, you can take the subway and the RER to Denfert-Rochereau or use Bus 38 and 68. The museum is open Tuesday-Sunday from 10am-8:30pm (closed Mondays).
The number of visitors is limited to 200 at a time so the line can get really long. I highly recommend reserving your space in advance to avoid the line. (Seriously, the line gets to be hours long!). If you can't reserve a spot online, make sure you get there as early as possible.
Advance tickets cost 24 EUR while last-minute tickets at the door cost 14 EUR (last-minute tickets are currently unavailable due to COVID; you need to book in advance until the pandemic ends).
There are audio guides available in English, French, German and Spanish for an extra 5 EUR. They are definitely worth the money if you don't have a guide as they add a lot of historical context to your visit.
***
Visiting the Catacombs is one of my favorite activities in Paris. It's something I highly recommend you don't skip. It only takes about an hour to wander through it completely and will give you a much more nuanced understanding of Paris.
Don't skip it.
[nm_guide book="paris_guide"]
Book Your Trip to Paris: Logistical Tips and Tricks
Book Your Flight
Use Skyscanner or Momondo to find a cheap flight. They are my two favorite search engines because they search websites and airlines around the globe so you always know no stone is left unturned. Start with Skyscanner first though because they have the biggest reach!
Book Your Accommodation
You can book your hostel with Hostelworld as they have the biggest inventory and best deals. If you want to stay somewhere other than a hostel, use Booking.com as they consistently return the cheapest rates for guesthouses and cheap hotels. My favorite places to stay are:
If you're looking for more places to stay, here for my favorite hostels in Paris. If you're wondering what part of town to stay in, here's my neighborhood breakdown of the city.
Don't Forget Travel Insurance
Travel insurance will protect you against illness, injury, theft, and cancellations. It's comprehensive protection in case anything goes wrong. I never go on a trip without it as I've had to use it many times in the past. My favorite companies that offer the best service and value are:
Looking for the Best Companies to Save Money With?
Check out my resource page for the best companies to use when you travel. I list all the ones I use to save money when I'm on the road. They will save you money when you travel too.
Want More Information on Paris?
Be sure to visit our robust destination guide on Paris for even more planning tips!